A Beginner's Guide on How to Meal Prep Like a Pro
First of all, what is meal prepping?
Meal prepping can describe several different food preparation methods, but basically, it's almost like organizing leftovers for easier breakfast, lunches, or dinners. There's no singular way to do it, but two common types include:
What are the benefits of meal prepping?
Meal prepping can save you time and money since you're buying and preparing home-cooked food ahead of time. Many people meal prep by shopping and cooking on the weekends, which may work better with your schedule than cramming it in during a weekday. Meal prepping can also make it easier to eat healthier (and lose weight, if that's your goal) since the menu gets set in advance. You're less likely to choose a not-so-great option when you've already have a healthy dinner at home, ready to go.
Is there any downside to meal prepping?
Since meal prepping can involve eating the same dish or types of food a few days in a row, it's not for people who prize variety and freshness above all else. Getting kids on board with eating "leftovers" can also pose a challenge, especially if you're making accommodations for different dietary restrictions or palettes. To avoid monotony, use different spices, dressings, or condiments to flavor your meals — or plan on freezing your prepped food for dinner another week.
All set? The next step is picking your recipes. Before you do, consider these three things:
Choose a meal you'd like to prepare for — breakfast, lunch, or dinner. Keep it simple by starting with one you usually eat out or skip altogether.
Pick a day to do your meal prepping. Sunday and Wednesday are two common choices.
Determine how much you want to prep. Experiment with prepping for two or three days before attempting five. You may not like eating the same thing the whole week.
If you're planning on creating your own recipes, Jaclyn London, MS, RD, CDN, Director of the Nutrition Lab at the Good Housekeeping Institute, says to make veggies or fruit at least 50% of whatever you're prepping. They don't necessarily have to come from the actual produce section, though: Frozen or canned varieties will last almost forever and work in nearly every meal.
The best foods for meal prepping:
Frozen vegetables: peas, broccoli, cauliflower, Brussels sprouts, green beans, veggie pastas, cauliflower pizza crust, riced veggies, veggie-based tater tots
Starchy vegetables: parsnip, cassava, potato, yuca, taro, parsnip, sweet potato, canned pumpkin
Stiff fresh vegetables: celery, carrots, bell peppers, cabbage, radish
Sturdy greens: romaine, green leaf (dress just before serving)
Whole grains: oats, quinoa, barley, buckwheat, sorghum
Pulses: chickpeas, lentils, beans, peas
Lean protein: frozen or canned seafood, eggs, unsweetened Greek yogurt, skyr, reduced-sodium cottage cheese, shredded cheese, tofu, lean cuts of chicken, turkey, beef, pork
Whole fruits: apples, bananas, oranges, clementines, plums, peaches, pears
Nuts and seeds: almonds, walnuts, peanuts, pumpkin seeds, chia, flax
Save this trusty shopping list for your next trip to the grocery store: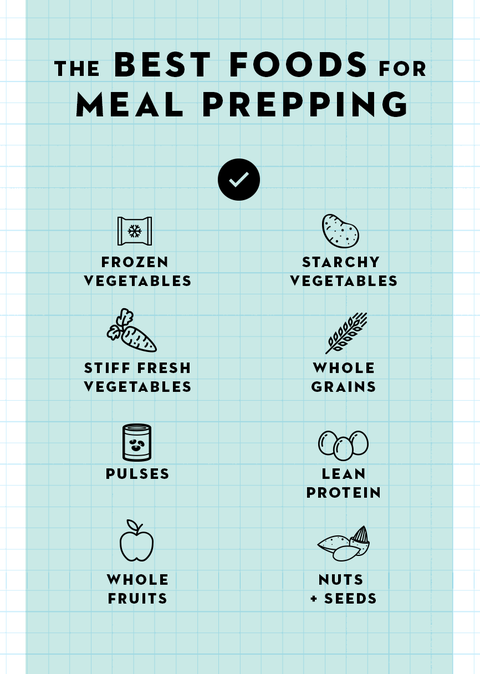 Need help with recipe inspiration? We've got you covered:
Best meal prep recipes for breakfast:
Breakfast is the most important meal of the day, so it's a good one to pick when you're choosing which meals to prep. You want to make sure your meal is light, but also has good carbs, fiber, and protein.
Please follow and like us: